As more and more people are turning to plant-based diets, the dairy-free market is expanding. 
While life without ice cream, cheese, and greek yogurt might not seem appealing, dairy-free products have grown exponentially in popularity. That being said, you will find a tonne of dairy-free alternatives available at the grocery store and that you can make yourself at home.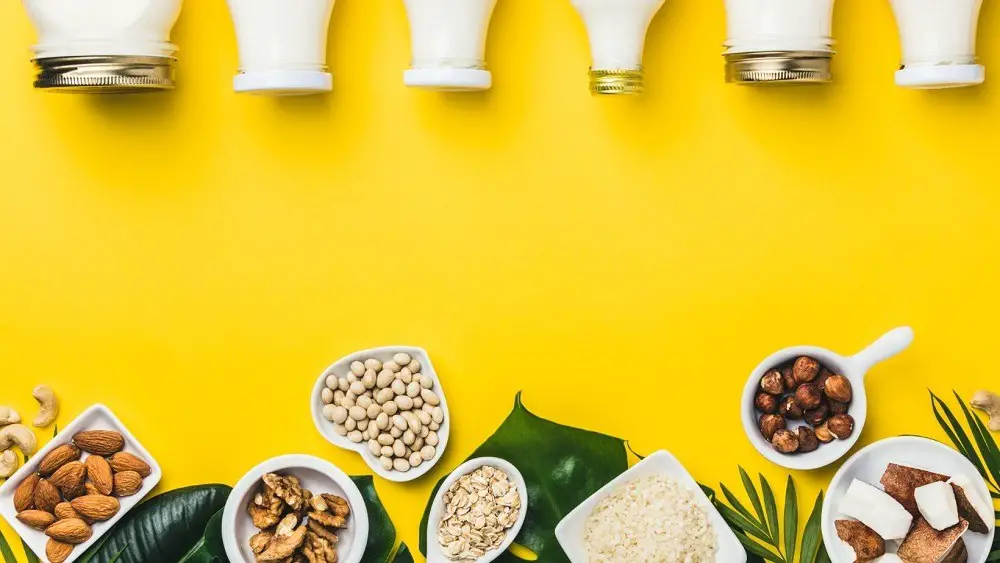 In this article, I cover 13 dairy-free alternatives. So, whether you're following a dairy-free diet out of choice or out of necessity, you have a few ideas at your disposal.
Keep reading to find out more.
13 dairy-free alternatives
1. Milk
Plant milks are a delicious alternative to cow's milk. Plant-milks include but are not limited to oat, almond, coconut, cashew, rice, hemp, and flax. Brands such as Califa, Blue Diamond, and Rice Dream are widely available in grocery stores.
Alternatively, if you'd like to try your hand at making your own plant milk, check out this almond milk recipe below.
2. Yogurt 
Coconut yogurt is the perfect dairy-free alternative to dairy yogurt. It mimics the texture of yogurt but with a slightly sweeter flavor, so you don't need to sweeten it. My favorite brands of coconut yogurt include So Delicious, Coyo, and Koko, but you are likely to find a variety of brands at your local store.
3. Sour Cream
When you're having Mexican food without sour cream, it becomes apparent that you're missing a fundamental component very quickly. Just because you're dairy-free, doesn't mean that you have to miss out on all of the fun! 
While the homemade recipe of sour cream is much tastier than the store-bought alternative, you can find dairy-free sour cream at your local store that is made from soy. This homemade version is made out of creamy raw cashews.
4. Ice cream 
Dairy-free ice cream is a close match to its dairy counterpart and is equally as delicious. A few of my favorite dairy-free ice creams include Ben and Jerry's vegan range and So Delicious.
5. Whipped cream
Nothing beats a big dollop of whipped cream to complete your favorite dessert, so we were ecstatic to find out that canned coconut milk makes the perfect dairy-free alternative.
6. Cream cheese 
If you're a big fan of cream cheese bagels and find yourself missing them when you're living a plant-based diet, dairy-free cream cheese exists! My favorite brand of dairy-free cream cheese is made by Daiya. That being said, you can make your own at home quite easily!
7. Coffee creamer
There's nothing like a coffee in the morning, and I can't live without a coffee creamer. Switch out your standard dairy creamer for the So Delicious coconut milk line. With flavors like French vanilla and hazelnut, you will be pleasantly surprised by your new coffee-cup additions. Additionally, they don't contain the typical trans fats that the dairy versions do.
If you'd prefer to give making your own dairy-free coffee creamer at home a go, check out this recipe made out of almonds below.
8. Crème fraîche
As the perfect addition to your savory and sweet recipes, you might find yourself missing crème fraîche when you're dairy-free.
Although there doesn't seem to be a good pre-made, dairy-free version available at local stores, the homemade version is simple enough to make.
9. Parmesan cheese 
Parmesan cheese is the ultimate cheese for your Italian dishes, turning any plate of pasta into a heavenly dish. Parma is a raw vegan parmesan, typically made from walnuts, sunflower and hemp seeds, nutritional yeast, and sea salt. It couldn't be easier to make at home!
10. Shredded cheese
There's no denying that shredded cheese makes most recipes better. My favorite vegan cheese brand is Daiya. Their shredded cheese comes in cheddar, mozzarella, and pepper jack, all of which have an uncanny resemblance to real cheese.
Alternatively, you can try making your own vegan mozzarella cheese at home!
11. Ranch dressing
Whether you use ranch dressing as a dipping sauce or as a salad dressing, it's a common household item that is hard to beat.
Dairy-free ranch dressing in comparison is much healthier than its counterpart. Vegan ranch dressing is often made with cashews for a creamy base and seasoned with lemon juice and apple cider vinegar, amongst other delicious herbs.
12. Kefir
If you are used to having this fermented, gut-friendly beverage, then you will be happy to know that there are dairy-free alternatives out there. Coconut milk kefir is an available alternative. However, it can be a bit more difficult to source than at your local grocery store, so you might want to try at-home fermentation.
Vegan kefir is often made with coconut or soy milk, so it can have a different flavor but is still absolutely delicious!
13. Hard cheese
If you're a fan of wine and cheese boards, then you'll definitely appreciate a dairy-free hard cheese. Believe it or not, there are vegan hard cheeses out there, you just have to know where to look.
Miyoko's Creamery makes a variety of vegan blocks of cheeses that are a great alternative if you're feeling like you're missing out on all of the cheese board fun.
In summary 
Being dairy-free doesn't have to feel limiting, and there are a tonne of dairy-free products available! 
As more people adopt a plant-based diet, the market will only grow. In the meantime, why not try your hand at some of these homemade dairy-free recipes?