Having dry and chapped lips can be painful and can often leave your lips cracked and bleeding.
Sometimes lip balms and ointments can't provide you with the relief that you're looking for, and you need a solution that is going to help you exfoliate the dry skin off your lips.
In this article, I will give you a step-by-step guide on how to make a simple DIY honey sugar lip scrub. This homemade recipe will not only help you tackle your dry lips, but also only contains a few simple ingredients that you likely already have at your disposal!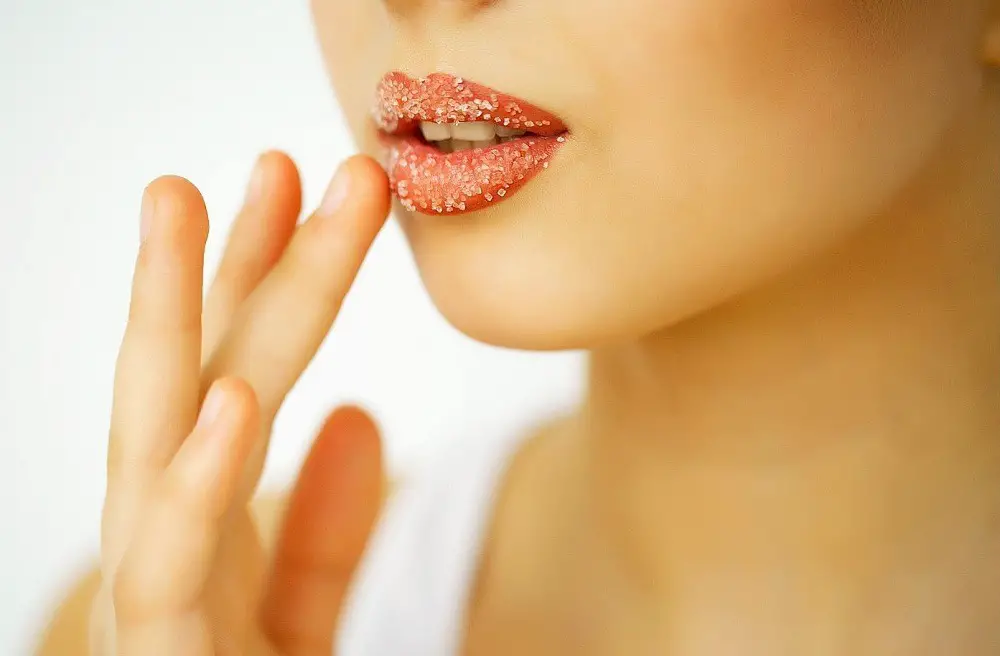 Without further ado, let's get started.
Lip scrubs primarily include two components: a moisturizing agent and an exfoliating agent. The moisturizing agent provides a hydrating base for the scrub, making the product convenient to apply and use. On the other hand, the exfoliating agent works to smooth the surface and scrub any dry skin off the surface of your chapped lips.
There are multiple benefits of using a lip scrub.
Benefits of lip scrubs 
Smooths your dry lips – Lip scrubs work to get rid of chapped skin from your lips, stimulating the growth of fresh skin cells. In turn, this makes your lips more soft and smooth. Exfoliating and cleansing your lips on a weekly basis will keep your lips soft.
Makes your lips an even texture for better makeup application  – Lip scrubs are great for making your lips an even texture and providing you with a blank canvas to apply your lip products. For instance, liquid lipsticks can be very drying and cling to flakey skin along your lips, making the application process difficult. Exfoliating your lips with a lip scrub is a great way to prevent this from occurring!
Prevents your lips from drying out –  Exfoliating your lips with a lip scrub helps to retain their moisture and will keep cracks in check in the future. If your dry lips are a recurring problem, stay on top of the issue by incorporating your lip scrub into your skin routine a couple of times a week!
A guide on how to make a DIY honey sugar lip scrub 
Ingredients 
1 tablespoon of sugar
1 tablespoon of honey
½ teaspoon of olive oil
½ teaspoon of petroleum jelly 
1 spoon to mix
1 small container
1 bowl
Instructions 
To begin, you will need to gather and measure out your ingredients. 
Next, mix the honey and sugar together in a bowl and stir until they are well combined.
When the honey and sugar are well-mixed, add the petroleum jelly to the bowl and mix well. As the jelly is a different consistency, this might take a little longer to ensure that everything is well mixed. 
Following on from this, add the olive oil into the bowl and mix well. 
Once all of the ingredients have been added, it's time to grab your container. Spoon the mixture into a small container to store. 
Store your homemade lip scrub in the refrigerator. Make sure to label the jar and add the date so you can keep track of how long you've had it. Each batch should be good to use for around one week, giving you plenty of time to exfoliate those chapped lips!
A guide on how to use the homemade lip scrub
Start by taking a dime-size amount of scrub and rub it gently onto your dry lips. 
Gently rub the lip scrub on your lips in a circular motion to exfoliate them until some of the sugar has dissolved.
Once you have exfoliated your lips for a few minutes, allow the scrub to sit for 1-2 minutes so your lips receive the moisturizing benefits from the scrub. Then, take a cloth and rinse it well with warm water. 
Next, you will need to wipe the excess lip scrub off your lips with a warm cloth.  
Once you've got the scrub off your lips, apply lip balm as necessary to rehydrate your lips.
Continue using this lip scrub a few times a week and your lips should be silky soft.
How long do you keep a lip scrub on?
Before you use your homemade lip scrub each time, let the scrub sit out and adjust to room temperature to soften up before applying to your lips. Once you have exfoliated your lips, let the lip scrub sit for 1-2 minutes and then remove with a warm washcloth. This time allows the scrub to sit and moisturize your lips.
How often should I use a lip scrub?
While using a lip scrub has many benefits, you can actually overuse them and cause more harm than good if you're not careful. It's a good rule of thumb to not use your lip scrub more than 1-2 times per week.