Between trips to the salon, your hair can feel dry, damaged, and in need of some extra care and attention other than standard conditioner. 
Bleaching, using heat too often, and washing your hair too often can lead to dry and brittle hair. Hair masks are a great way of rehydrating dry and damaged hair. While you can easily buy hair masks at the store, you can alternatively make one at home with a few simple ingredients.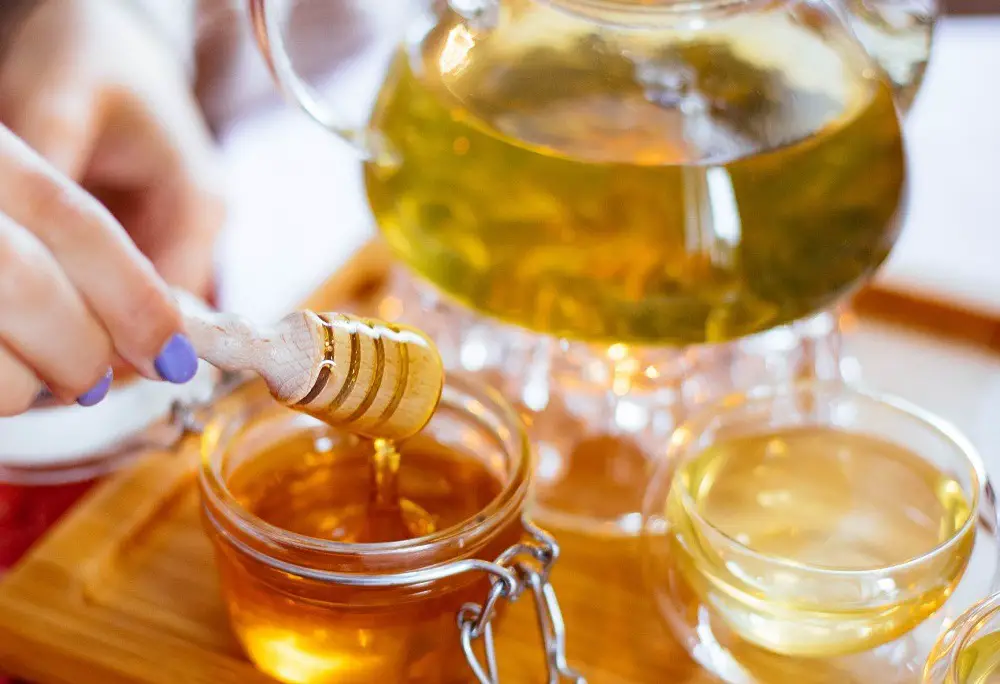 In this article, I will give you a step-by-step guide on how to make an olive oil and honey hair mask. So, next time your hair is in need of a bit of TLC, you're covered!
So, let's get started.
Aside from being a common household ingredient, olive oil is said to help soften and replenish much needed moisture when your hair is feeling dry and lifeless.
Benefits of using olive oil in a hair mask
Olive oil is thought to add softness and strengthen hair by penetrating the hair shaft and preserving moisture. 
You might find that olive oil makes your hair shinier. The shine said to come from olive oil may be due to the oil smoothing the outer cuticle of the hair.
If your hair is severely damaged, applying olive oil can help smooth the broken or burned ends of your hair.
Alongside olive oil, honey has many benefits that are great for your hair. Due to its vitamins, minerals, and antioxidant properties, honey has been used as a natural remedy for all sorts of ailments throughout history. From healing wounds to improving skin conditions, and relieving digestive issues to soothing a sore throat, honey is more than just a delicious ingredient.
Benefits of using honey in a hair mask
Honey is often used in hair masks to promote hair growth. It is used as a treatment for wounds because of its ability to promote cell growth, which applies to the hair, too.
Honey is known to condition your hair. Aside from the vitamins and minerals, amino acids, and antioxidants that are in honey, it also has moisturizing properties to help keep your hair conditioned and healthy. Additionally, it moisturizes your scalp.
Using honey in a hair mask can also reduce frizz while working to soften the hair.
Honey may be beneficial to restoring the natural condition of your hair. By locking in shine, honey can restore the natural luster to dull and lifeless hair!
A guide on how to make a DIY olive oil and honey hair mask
Ingredients 
6 tablespoons of extra virgin olive oil
4 tablespoons of honey
1 bowl and spoon to mix
1 hair clip
1 shower cap
Instructions 
Begin by measuring out your ingredients.
Next, grab a large bowl and mix the ingredients together with a spoon until the mixture is well combined.
Apply the mixture to clean, damp hair. You might want to do this with a brush to make applying the mixture easier.
Comb through with your fingers or a comb to make sure the mixture is worked into the entire length of your hair, including the scalp.
Once you've given yourself a head massage and all of the product has been worked into the hair, twist your hair into a bun and clip it up.
Put on the shower cap and allow the mixture to sit on your hair for 30 minutes. The longer you keep it in, the more moisturizing it will be for your hair.
Next, you'll need to rinse the mask out of your hair with warm water in the shower.
You will want to use a mild shampoo to make sure that all of the oil is out of your hair.
After you've shampooed your hair, follow up with a conditioner. 
Repeat 1-2 times a week depending on the condition of your hair. You can increase or decrease the number of times you use this hair mask as you monitor your hair's progress.
Tips when using an olive oil and honey hair mask
Make sure that you pick organic, unprocessed honey so your hair receives as many of the benefits that honey offers as possible.
If you've never experimented with olive oil as a hair product before, start slowly. Use just a tablespoon or two for your first treatment.
You need to make sure you work the mask into your hair thoroughly. Massage the hair mask deeply into your hair for a few minutes. You can also massage it into your scalp if you have a dry scalp, as this will allow the mask to work its magic there, too. That being said, you should be aware that this can make your hair seem more greasy if you have very fine hair.
For the most effective conditioning, wrap your hair in a shower cap and let the mixture soak into your hair for 30 minutes or more.
How long can I leave honey and olive oil in my hair?
Typically speaking, you should leave a honey and olive oil mask on your hair for around 30 minutes to feel the benefits of the hair mask. Start by working the mask in at the scalp and work your way down to the ends. Gently massage your scalp for a few minutes with circular motions using your fingertips. Make sure that your hair is thoroughly and evenly coated before placing a shower cap on your hair to help seal in the moisturizing ingredients.
In summary 
Due to its many therapeutic properties, using honey in a hair mask may help moisturize your hair and scalp, reduce frizz,  and reduce hair breakage.
Additionally, using olive oil can restore shine to your natural hair and improve the overall condition through its moisturizing properties.
If your hair is dry, you can use an olive oil and honey hair mask a couple of times a week on your hair. However, if your hair is already oily you don't want to overdo it, so only use the mask once a week.