Kelly Leveque is a holistic nutritionist based in Los Angeles. She is a favorite among celebrities, with big names such as Evan Peters, Jessica Alba, and Chelsea Handler visiting her for nutritional advice. She is the founder of the Fab 4 philosophy, combining protein, fat, fiber, and greens. This means that her nutritional advice is easy to follow, no matter your dietary specifications. 
Her nutritional advice centers around balancing macronutrients in a convenient and accessible manner. Her outlook aims to balance your blood sugar through nourishing foods, allowing you to naturally regulate your hunger hormones and stay satiated all day.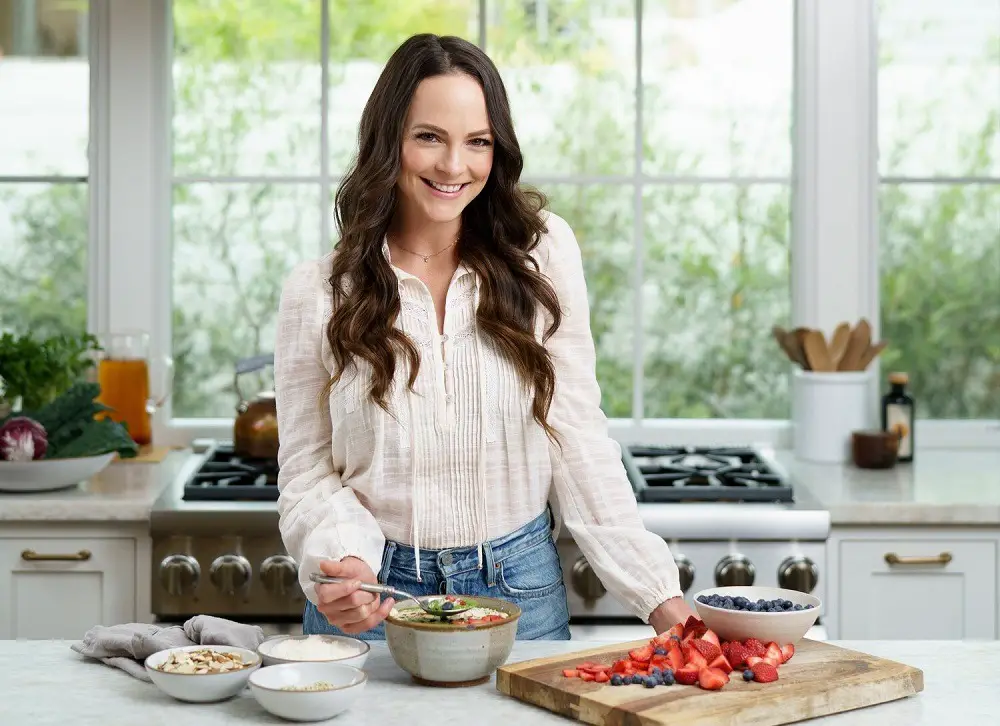 What is the fab four?
As we have mentioned, it is the combination of protein, fat, fiber, and greens to ensure your diet is as balanced as possible. This will also help to balance your hormone levels and manage hunger cues effectively. Kelly recommends consuming them at every meal for optimal results. She also advises limiting yourself to one serving of carbohydrates per meal. 
The fab four help to elongate your blood sugar curve, reducing spikes in insulin and blood glucose levels. They support the production of hormones within the body and manage a healthy gut microbiome for optimal overall health.
This way of eating will also help to promote a healthy body composition and keeps you satiated for 4-6 hours after each meal. They can switch off 8 of the human hunger hormones and ensure you are consuming enough fatty acids and amino acids for cell regeneration. 
Protein is used in the body for a huge number of processes. These include the growth and repair of cells and tissues, particularly muscles. It helps blood to clot, balances fluids contained in the body, and is vital in immune system responses. It is also used to build enzymes, hormones, and is important for good vision. 
Fat is vital for the absorption of many vitamins, including A, D, and E. It can also be converted into energy to fuel the cells in your body. Fiber is an indigestible part of plant-based foods. It helps to keep your digestive system functioning correctly and makes your bowel movements easier. It is also used to remove carcinogens and cholesterol from the body.
Greens are a great source of vitamins and minerals. These are vital for your overall health and eating greens with each meal sets you up for success.
What does a sample day look like for Kelly?
When she wakes up – 7 am
As many nutritionists do, Kelly starts her day with a large glass of water. This rehydrates your cells and kick starts your metabolism and digestive system. After this, she tends to drink a coffee or a cup of black tea to give her a caffeine boost for the day. 
Kelly prefers to exercise fasted, so after these drinks, she will often head to the gym. Fasted exercise has been shown to increase levels of testosterone and human growth hormone in the body. These help to reduce the levels of triglycerides and glucose in the blood, as well as oxidizing free fatty acids. 
Breakfast – 9 am
Kelly tends to opt for a fab four smoothie for breakfast. They are quick to make and conveniently portable, perfect for her on-the-go lifestyle. A personal favorite of hers is her Spa Smoothie. This combines a vanilla protein powder, avocado, chia seeds, lemon juice, spinach, cucumber, mint, and non-dairy milk. 
This smoothie is full of nutrients and will keep you satisfied until lunch. The flavors are so delicious you would never even believe that it is healthy. It is a great idea to start your day with a healthy portion of greens to pack in the vitamins early on. This smoothie will reduce your ghrelin levels (the hunger hormone) and can maintain your blood sugar curve for longer. 
Lunch – 12pm 
Kelly often opts for salad-centric lunches with a wild protein source, such as salmon or bison. She is also a big fan of lettuce cups, filled with protein and some grains. If she's out and about, Kelly likes to purchase salads from Whole Foods or other places like this. 
The key to Kelly's lunches is ensuring that there is a decent quantity of healthy fats and proteins. Opt for avocado, olive oil, and double servings of proteins. Her dietary philosophy is all about front-loading calories throughout the day, meaning that you eat less as the hours pass by. 
Snacks – 3pm
Simplicity is the key to this diet. As a general rule, Kelly does not snack. This is because it has been shown to spike insulin levels, interrupting the digestive process and increasing hunger levels. If she does need a little something to tide her over, she often opts for nuts, coconut butter bars, or hard-boiled eggs. 
One of Kelly's favorite snacks is avocado hummus served with chopped raw veggies or flax crackers. This snack contains all of the fab four nutrient categories, but Kelly says this is not vital. If you have to choose between them for snacks, opt for protein and fiber-rich food sources. These will help you to remain fuller for longer. 
Dinner – 6pm
Kelly likes to eat home-cooked meals where possible but does not like to spend hours in the kitchen cooking. Many of her favorite dinner meals are cooked in the crockpot or slow cooker, minimizing the effort required to make them. Alternatively, a sheet pan meal that combines lean protein with a lot of veggies will usually hit the spot. 
One of her favorite meals is turkey and flax meatballs served on top of zucchini noodles. In the winter, she's partial to a warming chili served with a vegetable salad alongside. 
Before bed – 8 pm
Kelly is unlikely to have post-dinner snacks as she often feels full until the morning meal. In the evenings she prioritizes taking time for herself and unwinding from the stress of the day. She is likely to be found reading, listening to a podcast, in her infrared sauna, or soaking in a magnesium bath.