The softness of the material makes them great for everyday wear. Alligator hair clips are also very versatile because they can go with almost anything.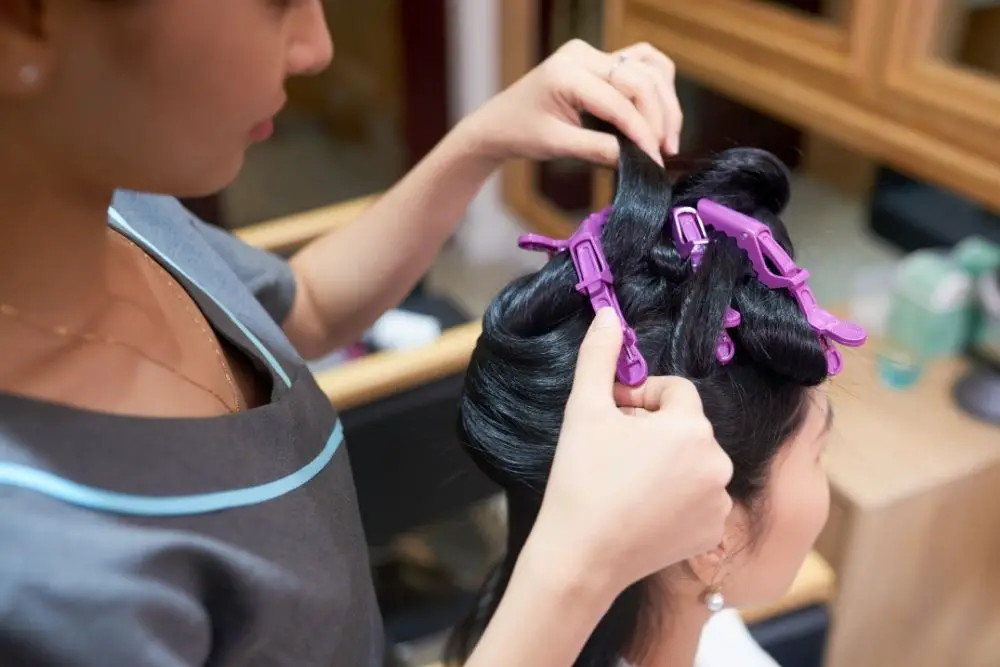 Alligator hair clips are perfect for adding some fun to your outfit. Whether you prefer a simple black dress or a colorful maxi skirt, these clips will give your look a unique touch.
What Are Alligator Hair Clips?
An alligator clip is a type of hair clip that is often used to hold the hair in place while styling. You can find alligator clips in many different shapes and sizes.
They come in handy for holding hair in place during blowouts and curling. Some people even use them to keep their bangs in place. But what exactly are alligator clips?
Alligator clips are usually made of plastic and metal. They look like small pieces of wire wrapped around a piece of plastic.
These types of clips are called pinch clips because you grab the wire ends and squeeze them together to form a loop. When you release the wires, the clip holds the hair in place.
What Hairstyles Can You Make With Alligator Hair Clips?
Alligator clips come in many different designs and sizes. They're perfect for keeping hair out of your eyes while you work or play, and they look great paired with almost anything else.
From playful animal prints to sleek modern styles, there are plenty of ways to style these little accessories. Whether you want something simple or intricate, there's something here that will suit your personal style.
Long Hair
Long hair isn't just about volume; it's about versatility. Whether you're looking for a casual hairstyle or something edgy, there are plenty of ways to keep your locks out of your face. 
A half-up, half-down hairstyle creates a soft, feminine shape that works well for women with longer hair. This effortless style requires just one tool: alligator clips.
Use alligator clips to hold the hair up away from the face and let it fall softly over the forehead. To finish off the look, apply some hairspray, and voilà!
Short Hair
Alligator clips are great for adding a little style to your look without making it obvious. They're small, discreet, and versatile — perfect for securing hair into a bun, pinning back loose strands, or creating a simple ponytail.
And because they come in such a variety of colors, you'll never run out of options. Try one on a low-key day and see how it adds some flair to your everyday style.
Formal Updo
Small hair accessories are a popular choice for adding a little sparkle to formal updo styles.
Alligator clips with rhinestones, tiny butterflies, or silk bows are popular options when accentuating a formal hairdo while securing small hairs near the napes of the neck or around frames of the face with alligator clips in lieu of plain hairpins.
Children's Hairstyles
If you've ever struggled to keep a toddler's unruly locks under control during those moments when it seems like nothing else works, you'll appreciate little alligator clips.
They're great for holding down the sides of a child's head while letting her hair flow freely over her ears.
And because they're designed specifically for kids' hair, they won't snag or pull out strands. Plus, they come in cute colors such as pink, purple, blue, green, yellow, and orange.
What's The Best Thing About Alligator Clips?
Alligator clips are useful for many things besides holding up a hat. They can be used to attach items like necklaces, earrings, bracelets, and even hair clips.
Clips are perfect for keeping hair out of your eyes while you're driving. And they make it easy to clip your phone to your belt, bag, or purse strap.
The best part about alligator clips is that you don't need much space to store them. You can easily fit dozens of hooks into a single plastic zipper case.
And because they're small, you won't lose them anywhere near as often as you do with larger jewelry clasps.
Which Alligator Clips Are Best?
Alligator clips are versatile little devices used for attaching objects together. They come in many shapes, sizes, and colors. Most people use them to attach things like jewelry, hair accessories, keys, etc., onto clothing.
Some people use them for electrical purposes, such as connecting wires together. In fact, some people even use them to connect items to themselves. For example, a person might use one to clip something onto his belt loop.
There are several different kinds of clippers on the market today. You'll find everything from simple plastic ones to high-tech metal models.
However, there are three main types of alligator clips that you're likely to encounter. These are pin curl clips, ball chain clips, and spring clips.
Each type has its benefits and drawbacks, so it's important to know what each does well. Here's a quick rundown of the most popular types of alligator clips.
The Single Prong
Alligator clips come in different sizes and shapes. There are single-prong clips, double-prong clips, alligator clamps, and even alligator rings.
Alligator clips are perfect for holding hair back. A single-prong clip is ideal for holding back a child's hair or keeping a ponytail in place.
Double Prong
Double-prong alligator clips are great for holding hair in place while making a quick hairstyle. They are designed to fit over the head like regular alligator clips, but each prong is spaced apart enough to allow you to push both together into the hair elastic.
This allows you to secure multiple strands of hair without having to worry about pulling out the clip.
The double-prong design makes it easy to separate the prongs and use one to pull hair down in front of the face while pushing the second prong into the hair elastic behind the ear.
You can even use double-prong clips for a ponytail, but make sure to take care of the ends of your hair.
Final Thoughts
If you've ever tried using an alligator clip before, then you already know how useful they can be.
Whether you're clipping your hair back, holding your keys, or securing your favorite necklace, these little gadgets will always have a purpose.