Styling your hair can be a fun way to freshen up your look and try out new hairdos! It's also great for keeping your hair in place and away from your face as sometimes it can be distracting for work, running errands or going to the gym.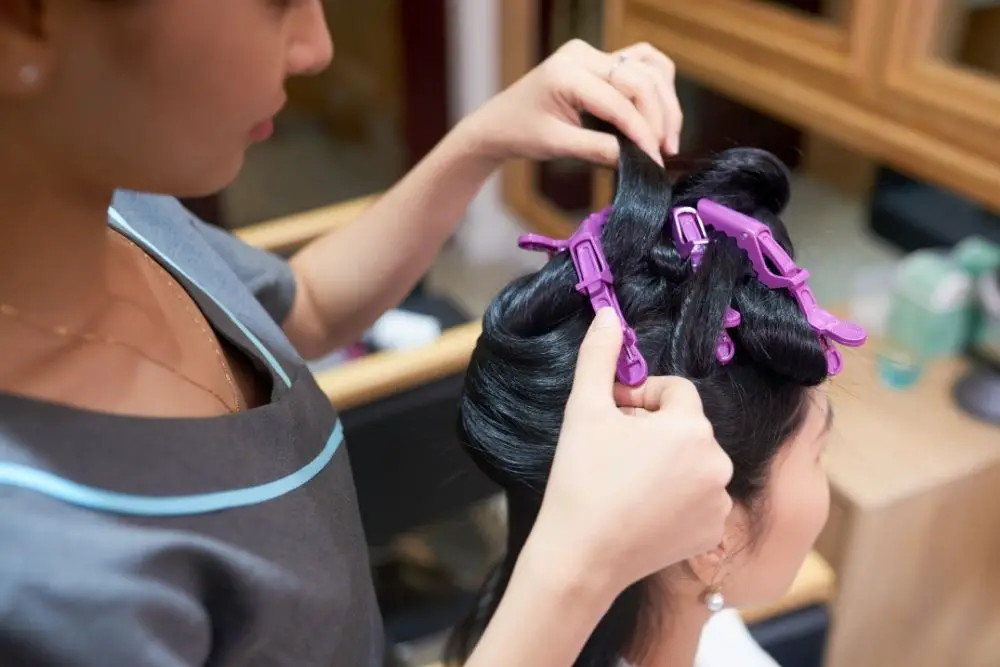 One of the most popular hair accessories is the alligator clip. This clip has been used for years, but it's still widely utilized today to keep the hair neat, tidy and looking chic. The alligator clip is also called a claw clip or jaw clip as the teeth of hair clip looks like the snapping jaws of a hungry alligator.
If you want to keep those luscious locks in place, then you will need an alligator clip! So, what exactly is an alligator hair clip, and how do you use one? Find out here in this guide!
What Is An Alligator Hair Clip?
Alligator clips are hair accessories that resemble the jaws of an alligator. These clips are often called jaw clips or claw clips as they have teeth that fit together to grasp onto the hair and keep it in place.
Alligator hair clips are primarily used to hold back hair from the face. They can be used to section the hair, keep wispy pieces in place, and to keep the hair up and off the face.
Some people prefer to use an alligator clip to clip up one section of hair such as the top section, and leave the rest of the hair flowing, whereas others prefer to clip back all of the hair for a loose yet charming look.
How To Use Alligator Hair Clips
Alligator hair clips can be opened and closed onto the hair to keep it in a certain place or position. Some people simply use these clips as a necessity for keeping hair separated whilst straightening and curling, but others style them for everyday wear.
Let's take a look at the Queen of the Alligator and Jaw Clips: Rachel Green from popular TV show Friends. Rachel Green, played by Jennifer Aniston is often idolized for her fashion sense, but we don't just love her clothes.
Jennifer Aniston's now iconic haircut is still being replicated today because of its simple, choppy and layered look that's oh so flattering. But our favorite Friends character also showed us how to wear the alligator clip with simplicity and style.
So, how do you use an alligator clip for a beautiful effortless but chic look? It's actually really simple. The first step is to brush through the hair so it looks sleek and there are no knots when you clip it up.
You can also tease the hair a little bit at the crown to give you that extra volume and make your hair look bigger and fuller.
Then, place your hair in the palms of your hands, with one hand either side of your head. Next, gather all of the hair in your hands, with the palms upwards, and the thumbs keeping the hair in place.
After this, twist the hair round all the way to the ends, until you have something of a twisted ponytail, and raise it up against the back of the head.
Then, all you have to do is secure the bundle of hair on the back of the head with the alligator clip, either loosely so the ends of the hair cascade down over the clip, or tightly so that the ends are tucked into the hair.
You can either spray the front, wispy pieces of hair in place, so there are no bits getting into your face or coming out of the clip, or pull down two thin pieces at the front to frame your face. It's entirely up to you!
Alternatively, you can use a barrette style alligator clip like this one: https://shop.wishesnkisses.com/collections/gold-hair-clips to accessorize the hair, or keep wispy, loose hairs in their place.
Simply open the jaws of the clip, slide it into place and close the jaws down so that they stay clasped onto the hair.
How To Use Alligator Hair Clips – Video tutorial
If you're unsure how to use an alligator clip, then check out this simple video tutorial by 'ehowbeauty' . It only takes a couple of seconds to finish the look, and have your hair kept back, neat and tidy for a very polished appearance.
Best Alligator Hair Clips
You can find alligator hair clips pretty much anywhere that sells hair and beauty products. Some of our favorites are these simple claw style alligator clips: https://shop.wishesnkisses.com/collections/gold-hair-clips
Or these that come in a range of colors, and are a little extra large and thick to hold you hair all day.
You may rather something a little more stylish and understated such as these rectangular clips for a beautiful and well kept style that you can wear anywhere.
Finally, we just love tortoiseshell hair accessories. This trend has been around for decades and it's not going away anytime soon, so why not try an alligator clip in this style
For more hair inspiration, check out our beautiful range of hair clips here
Summary
To summarize, alligator hair clips are essential in your everyday routine. You can use them to pin back your hair, clip up sections for styling purposes, or just keep your hair back off your face in an effortless 90s style. Simply put your hair in a low pony, twist, and clip!