Rich Roll is an ultra-endurance athlete that follows a vegan lifestyle. He has not always been so healthy and fit. For about a decade, Rich abused substances and alcohol. At the age of 31, he went to a rehab facility and stayed there for 100 days to gain sobriety.
His lifestyle remained demanding, Rich found himself working into the ground as a lawyer. When he turned 40, Rich realized that something dramatic needed to change in his life.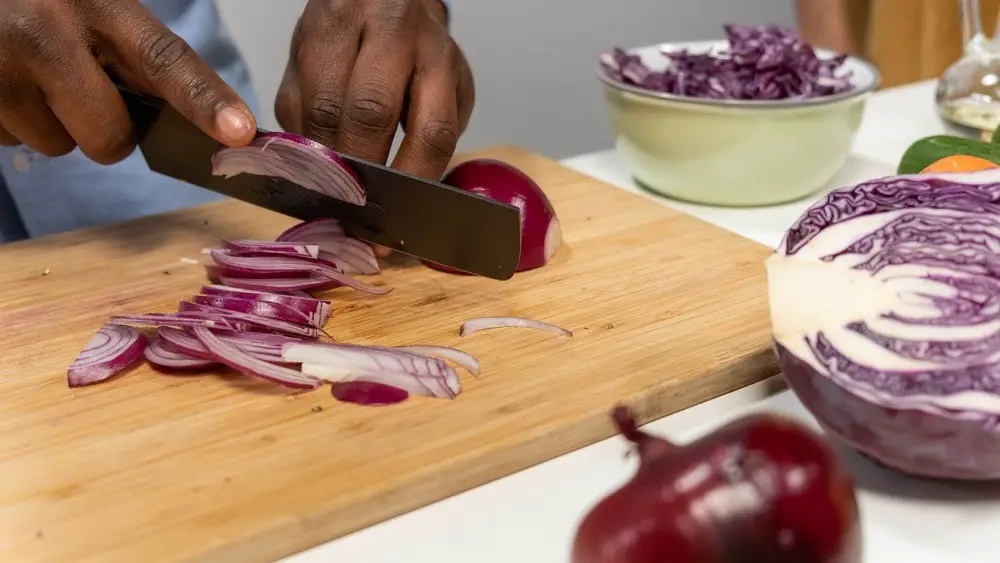 As he began to struggle walking up the stairs at home, Rich realized that his genetic predisposition to heart attacks was becoming a real issue. For the next year, he began trying a variety of new diets to see which worked for him. Two weeks into eating a whole-food, plant-based diet, Rich realized that he'd found his way of life.
A sample day
When he wakes up – 5 or 6 am
As is common among health and wellness experts, Rich Roll starts his day off with a liter of water at room temperature. Into this, he will add a few ounces (around 4 tablespoons) of apple cider vinegar. 
He will occasionally drink a cup of strong coffee before he works out, depending on how tired he is. 
Breakfast
The breakfast Rich eats before his workout tends to be a large green smoothie. Often this will include a combination of dark leafy greens, such as chard, kale, and spinach. To this, he adds 1 beetroot (plus the greens), 2 bananas, and half a cup of berries.
It will be topped with coconut water and a tablespoon of each of a variety of supplements. These are chia seeds, hemp seeds, ground flax seeds, maca powder, acai powder, and spirulina powder. 
Some days, Rich is more hungry and this smoothie is not enough to satisfy him. On these days, he will also eat a bowl of cold quinoa topped with blueberries, almond milk, and chia seeds. This may be followed by a slice of gluten-free toast topped with almond butter if he is still not satisfied. 
During long workouts
Sometimes Rich will need a little extra energy to make it through his training sessions. For this, he likes to make up a bottle of Perpetum. This is a low GI (glycemic index), maltodextrin-based, liquid carbohydrate drink. He likes to make enough to equate to around 900 calories. 
If he is doing a long cycling workout, Rich will take a bottle of coconut water for the ride. Along with this, he will take snacks of dates, almond butter, bananas, and sweet potatoes. 
Long running workouts call for Perpetum, coconut water, electrolyte tablets, and dates. For swimming workouts, Rich will supplement his energy with coconut water or just regular water.
Post-workout meal
Hydration is vital for optimal recovery from exercise. Rich always follows his workouts with a large glass of water or coconut water. 
In the first 60 minutes following his workout, Rich attempts to consume a large green protein smoothie. This incorporates a multitude of greens, 3 or 4 bananas, some citrus, and berries, as well as a scoop of protein powder. 
Lunch
Lunch for Rich tends to be a large salad. He tops it with blackened or steamed vegetables and dresses it with balsamic. If he is having a hungry day, he may incorporate some rice, quinoa, or lentils. 
He is known to be partial to the occasional piece of vegan sushi, and always washes his lunch down with a kombucha. 
Snacks
Rich likes to snack throughout the day when his hunger cues call for it. He tends to reach for classic vegan fruits such as bananas and dates. He is no stranger to fats, and will often snack on raw almonds, Brazil nuts, or walnuts too. 
Rich is also a fan of Cliff bars and Organic Green Energy Bars. He will sometimes have a bowl of gluten-free cereal, like Gorilla Munch or granola. 
Dinner
Dinner tends to be the largest meal of the day for Rich. It is often a recipe from one of his cookbooks, prepared lovingly by his wife, Julie. Some favorites include burritos, enchiladas, and lasagne.
Rich says he is also partial to bowls of rice and quinoa with black beans, topped with hot sauce and guacamole. This will also contain some salad, spinach, asparagus, broccoli, and green beans. This is often washed down with another fresh green juice. 
Supplements 
Rich is not too concerned with supplementation. As a vegan, he is required to take a Vitamin B12 supplement. This is because there is not sufficient B12 in plant-based food to meet your daily requirements. This is the only supplement found in his diet. 
Diet plans
Rich has a personalized meal creation service on his website, found at https://meals.richroll.com. With prices starting at just $1.90 per month, it is phenomenal value for money. The meal planner helps to make a diet and lifestyle adjustment a breeze. 
You will first be asked to take a survey so that the meal planner can learn more about your lifestyle. This will include questions like the level of culinary skills you have, the time you set aside to prepare each meal, the number of people living in your home, and any allergies or dietary requirements. 
The meal planner will then show you a list of recipes that align with the information that you have input. You will be able to curate a personalized weekly meal plan in one convenient location. 
The meal planner will then give you a list of groceries to purchase, making weekly shopping a breeze. In specific areas, the meal planner even offers a grocery delivery service. The meal planner also contains exclusive diet and lifestyle tips, nutritional analysis, and expert advice from a team of Food Coaches available every day of the week.
The meal planner allows you to have full control and customization powers. You can increase or decrease the number of servings for each recipe to incorporate guests or to make leftovers.